What is RepublicACH?
ACH stands for Automated Clearing House. It's an electronic payment system that allows you to transfer money between accounts in 24 hours! RepublicACH is one of the most convenient, reliable and secure ways to move funds. Why send payments separately when you can do it in batches?
You can use it to make electronic payments such as:
direct deposits:
Salaries
Dividends
Pensions
Insurance Claims
Cash Management
How does RepublicACH benefit your business?
RepublicACH is made for any business (small, medium or large) and for any stage of business. Use it to spend more time growing and less time banking.
Payments sent via the ACH are cleared and settled within 24 hours.
Why use RepublicACH?
Spend less time in the bank by transferring funds with the click of a button
Keep track of your finances and manage your cash flow easily
Get money in and out of your account the next business day instead of waiting for a cheque to clear
Pay lower transaction fees than other payment options
Keep vendors and suppliers happy with automatic and timely payments
Keep customers satisfied by offering them a reliable, convenient and secure way to pay
Keep employees content by automatically paying their salaries into their accounts each payday
Improve your payroll operations by using a single ACH file to process many payment requests instead of sending separate paper cheques to employees
Protect your business by reducing the risk of fraud associated with cheques (bounced, forged, lost or stolen cheques)
Use a more accurate and confidential method to transfer money than manually processing cheques
How does it Work?
All of the Major Commercial Banks and the Central Bank are connected to the local ACH (Automated Clearing House) also called TransACH.

TransACH is operated by the Trinidad and Tobago Interbank Payments Systems (TTIPS) to process all the ACH transactions that move between these participants.
The entire process is automated!
Here's what it looks like: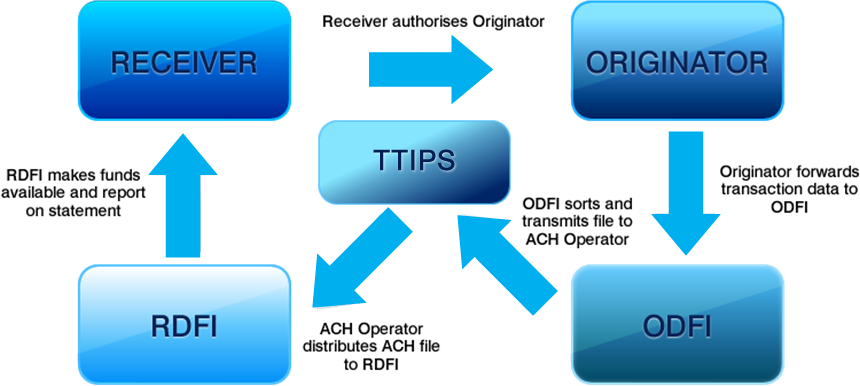 First, you (Originator) tell us (ODFI) that you want to make a payment using RepublicACH. The system also allows you to send several payment requests in a single ACH transaction.
We will then send all payment requests for a specific day electronically to TTIPS, via a secure Internet connection.
TTIPS will then sort and recompile all the payment requests it receives into separate files for each bank.
The Central Bank will then provide settlement between the banks based on that day's transactions total.
TTIPS will then send your payment request to the receiving bank (RDFI).
The receiving bank will then credit your Receiver's account.
How does RepublicACH make your life easier?
RepublicACH reduces the number of trips you make to your branch. You can automatically make and receive payments with the click of a button. All you need is an Internet connection and a computer. It also allows you to make several payment requests in one ACH transaction. For example, if you would like to pay your employees every month at the same time, you can send a single ACH file containing several payment requests and RepublicACH will process all.
RepublicACH payments are received the next business day. It will automatically pay your employees so they can get their salaries faster, and on time than if they received cheques. It also helps you to pay your clients and suppliers without delay.
You can now print and store fewer cheques. RepublicACH eliminates the money spent on manual cheque processing.
RepublicACH saves time because transactions are processed in batches.
Unlike the processing of cheques, this system encrypts all sensitive user information and account details. Also, only authorized users will be allowed to access the system.
Because transactions are done electronically, there are fewer hands involved in the transfer of funds. We use hardware and software that are equipped with the most advanced security features to protect you.
Unlike cheques which can be lost or stolen, RepublicACH reduces this risk. This is because it is a fully electronic system.
Unlike cheques which are manually handled during processing, payments made and received using RepublicACH are done automatically, reducing the risk of errors in the processing of such transactions.